Schedule 2018
Jan. 13, 2018
At The Quilt Cupboard
Saturday; 10 am - 2:30 pm
Quilt Study
Brown
Blotched Backgrounds


February 10, 2018
At The Quilt Cupboard
Saturday; 10 am - 2:30 pm
Quilt Study
Turkey and Madder
Hearts and Hands


March 10, 2018
Location TBD
Saturday; 10 am - 2:30 pm
Quilt Study
Green
Leaves and Clovers


April 14, 2018
Location TBD
Saturday; 10 am - 2:30 pm
Quilt Study
Rainbows and Ombre
Serpentines Big & Small


May 12, 2018
Location TBD
Saturday; 10 am - 2:30 pm
Quilt Study
Pinks
Flowers any color


June 9, 2018
Location TBD
Saturday; 10 am - 2:30 pm
Quilt Study
Blues
Circles, Rings,
Brides & Wedding


July 14, 2018
Location TBD
Saturday; 10 am - 2:30 pm
Quilt Study
Red, White & Blue
Patriotic


August 11, 2018
Location TBD
Saturday; 10 am - 2:30 pm
Quilt Study
Open Topic
Antique & Vintage Quilts


Sept 8, 2018
Location TBD
Saturday; 10 am - 2:30 pm
Quilt Study
Purples
Stripes, Strips & Plaids


October 13, 2018
Location TBD
Saturday; 10 am - 2:30 pm
Quilt Study
Orange and Yellow
Stars, Suns, & Starbursts


November 10, 2018
Location TBD
Saturday; 10 am - 2:30 pm
Quilt Study
Black and Neon
Eccentric prints and quilts


December 8 , 2018
Location TBD
Saturday; 10:00 am - 2:30 pm
Quilt Study
White
Shirting and
Conversations


Jan. 12, 2019
Location TBD
Saturday; 10 am - 2:30 pm
Quilt Study
TBD


February 9, 2019
Location TBD
Saturday; 10 am - 2:30 pm
Quilt Study
Topic
TBA



Updated 1-22-18

The purpose of Repiecers is to study American antique quilts, textiles, and related items for historical and educational purposes.
Repiecers is a cooperative study group where all members are encouraged to contribute and participate in discussions and study sessions.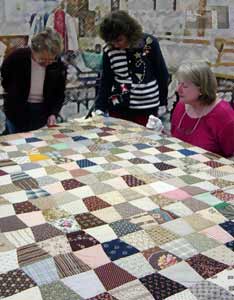 Repiecers meets every month
usually on the second Saturday of the month
from 10 a.m. - 2 p.m.

at The Quilt Cupboard

1243 East Imperial Hwy.
Placentia, CA 92870 714.891.8639
Until Feb 10, 2108

Please Check back for Future Locations

Some meetings may be canceled if the attendance is low, for information or RSVP
click here

Directions
See the schedule to the left for dates and locations.
Repiecers may plan a Field Trip meeting or Special Speaker.
Date and location TBA.
Guests and New Members are welcome.
To learn more about the Repiecers group or quilt history click here.
Membership in the American Quilt Study Group is recommended.


These are just a few of the books related to quilt study that are recommended.
For a list click on the book icon.

Thank You

Thank you to:
The Quilt Cupboard
1243 East Imperial Hwy. in Placentia, CA 92870
for providing us with a place to meet.

Thank you to the
Flying Geese Quilter's Guild
for Hosting the Repiecer's Website.